Meet the Author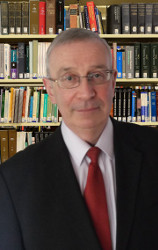 Dr. Colin Barron — a brief biography
Colin Barron was born in Greenock, Scotland in 1956 and was educated at Greenock Academy (1961-74) and Glasgow University (1974-79) where he graduated in Medicine (M.B. Ch.B.) in July 1979. He worked for the next five years in hospital medicine, eventually becoming a Registrar in Ophthalmology at Gartnavel General Hospital and Glasgow Eye Infirmary.
In December 1984 he left the National Health Service to set up Ashlea Nursing Home in Callander, which he established with his first wife Sandra and ran until 1999. He was the chairman of the Scottish branch of the British Federation of Care Home Proprietors (BFCHP) from 1985 to 1991 and then a founding member and chairman of the Scottish Association of Care Home Owners (SACHO) from 1991 to 1999.
Colin has a special interest in writing — his first non-fiction book Running Your Own Private Residential and Nursing Home was published by Jessica Kingsley Publishers in 1990. When he was at Glasgow University he was editor of SURGO (Glasgow University Medical Journal) between 1977 and 1979. SURGO subsequently won an award from the The Glasgow Herald for best student magazine in 1979. In late 1978 Colin was asked to write an article How to Improve a Student Medical Journal which appeared in the British Medical Journal in March 1979 and has been reprinted and revised in three separate editions of the BMA's How To Do It book.
He was also the Art Editor and Motoring Correspondent of Glasgow Medicine between 1984 and 1986. He is a former cartoonist, having contributed to Glasgow University Guardian, Ygorra, Glasgow Medicine, Scottish Medicine and BMA News Review . In February 1977 the Greenock Arts Guild held an exhibition of his work along with that of two other local cartoonists.
He has also written about 150 articles for various publications including This Caring Business,The Glasgow Herald, Caring Times, Care Weekly , The British Medical Journal ,The Hypnotherapist, The Thought Field and many others. He was a regular columnist for This Caring Business between 1991 and 1999 and the editor of SACHO Newsline between 1991 and 1999.
Colin has always had a special interest in hypnosis and alternative medicine. In 1999 he completed a one-year Diploma course in hypnotherapy and neuro-linguistic programming with the British Society of Clinical and Medical Ericksonian Hypnosis (BSCMEH) an organisation created by Stephen Brooks who was the first person in the UK to teach Ericksonian Hypnosis . He has also trained with the British Society of Medical and Dental Hypnosis (BSMDH) and with Valerie Austin, who is a top Harley Street hypnotherapist. Colin has also been a licensed NLP practitioner. In 1992 he was made a Fellow of the Royal Society of Health (FRSH)). He is a former member of various societies including the British Society of Medical and Dental Hypnosis - Scotland (BSMDH),the British Thought Field Therapy Association (BTFTA),the Association for Thought Field Therapy (ATFT) ,the British Complementary Medicine Association (BCMA) and the Hypnotherapy Association .
Colin has been using TFT since early in 2000 and in November 2001 he became the first British person to qualify as a Voice Technology TFT practitioner. He used to work from home in Dunblane and at the Glasgow Nuffield Hospital.
Colin has also had 40 years of experience in public speaking and did some training with the John May School of Public Speaking in London in January 1990.
In May 2011 his wife Vivien, then 55, collapsed at home due to a massive stroke. Colin then became his wife's carer but continued to see a few hypnotherapy and TFT clients. In late July 2015 Colin suffered a very severe heart attack and was rushed to hospital. Investigation showed that he had suffered a rare and very serious complication of myocardial infarction known as a ventricular septal defect (VSD) effectively a large hole between the two main pumping chambers of the heart.
Colin had open heart surgery to repair the defect in August 2015 but this first operation was unsuccessful and a second procedure had to be carried out three months later . On November 30 he was finally discharged home after spending four months in hospital. Unfortunately he also developed epilepsy while in hospital which meant he has had to give up driving for at least a year.
As a result of his wife's care needs, and his own health problems, Colin closed down his hypnotherapy and TFT business in April 2016 to concentrate on writing books and looking after his wife. His second book The Craft of Public Speaking will be published by Extremis Publishing on June 30, 2016
His interests include walking, cycling, military history, aviation , plastic modelling and reading.